Dedicated to offering the best silica solutions
Wuxi HengCheng Silicon Industry Co., Ltd. which covers an area of 2000m2 is the drafter of Chinese industrial standard (HG/T3061-2009) for silica products. HengCheng is also the Key High-Tech Enterprise of China Torch Program, Jiangsu Province High-Tech Enterprise and Jiangsu High Performance Silica Technology & Engineering Research Centre.
The Research Centre has cultivated a technology R&D team which is featured by high level of expertise and innovation sense. There are 48 employees (35.5% of the whole staff) in HengCheng who have received three year college or higher level of education, of which 27 are R&D staff, 4 have gained postgraduate degrees and another 4 doctor degrees. The corporation hires a number of overseas experts specialized in the development, application and sales of silica. In addition HengCheng has external experts working in the corporation all the year round. As the Jiangsu Province High-Tech Enterprise, HengCheng devotes 3% of sales volume to R&D and innovation every year, and has all together won 9 Jiangsu Province High-Tech Products, 19 innovation patents and 29 utility model patents.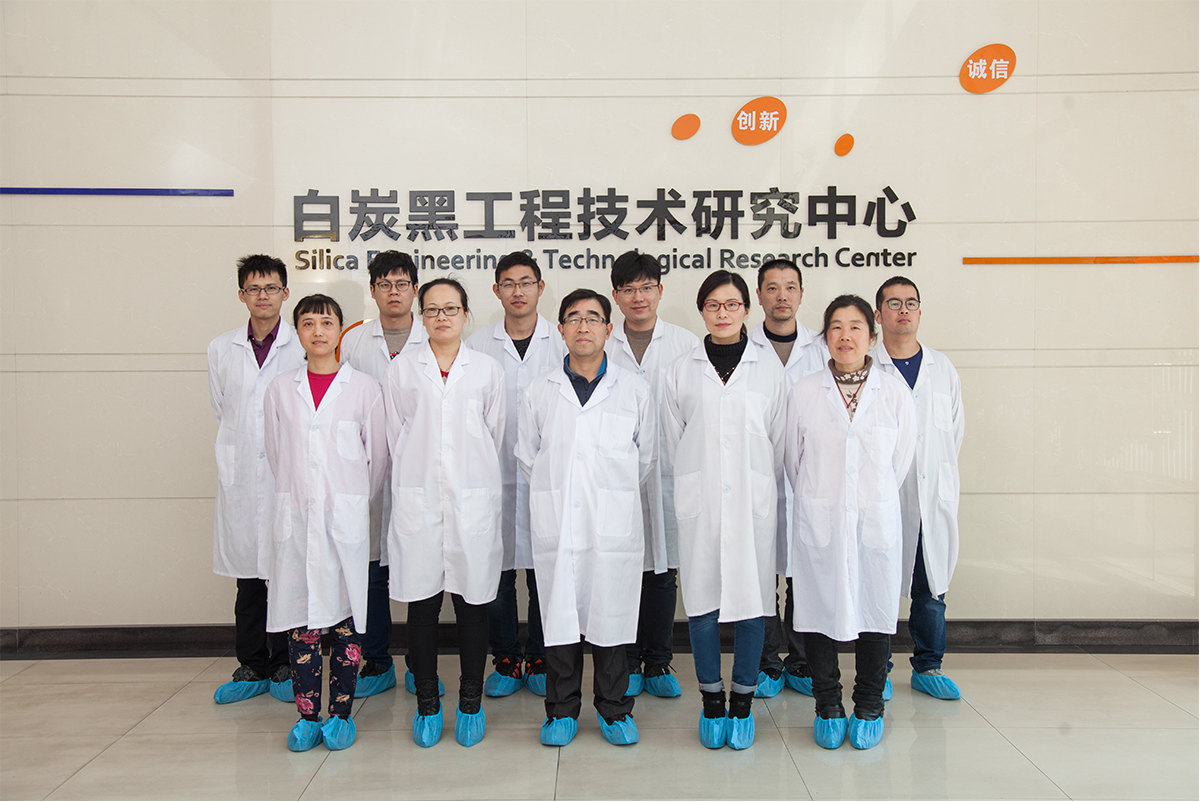 The Research Centre consists of three functional platforms including Processing Technology Centre, Analysis & Test Centre and Application Research Centre, covering the whole silica industrial chain from raw material examination, processing development, products test to the product application research.
Processing Technology Centre: There are 4 sets of reaction equipment for lab experiment, and each set can produce finished silica products independently. The main function of this center is to research into the influence of different processes on chemical & physical performances of silica, for example, the influence of different raw materials or additives as well as different reaction formulations, conditions or models on silica performances. It serves to provide tailor-made silica products as required by customers.
Analysis & Test Centre: There is a batch of imported testing equipment in this Center, including the nitrogen adsorption surface area tester from U.S.A, Metrohm potentiometric titrator from Switzerland and mercury porosimetry from Italy. This Center is responsible for analysis & tests of the chemical performance of raw materials, products in processing as well as finished silica products. For example, it carries out the tests of BET, CTAB, pore size & volume, D50 after sonication, ph-value and conductivity under the standard of HG/T 3061-2009. It aims to provide customers with high quality silica products.
Application Research Centre: There are in this Centre mixing mill, internal mixer, daylight press and a full set of testing machines from Taiwan GOTECH including mooney machine, rotorless curemeter, tensile testing machine, abrasion tester and flexometer. The main function of this Center is to research into the application characteristics of different types of silica in rubber, such as the influence of different BET on mooney, vulcanization and volume abrasion etc. with the method of HG/T 2404-2008. It endeavors to provide solutions to customer difficulties in silica application.
Based on the current advantages in scientific researches & talents and the company's strength in capital & technique, the Research Center has conducted extensive Industry-University-Research Collaboration with related universities, enterprises and institutes. It cooperates with the "Energy Saving & Emission Reduction" program of Tsinghua University, carries out basic research in "silica production techniques" with East China University of Science and Technology, and establishes a postgraduate working station together with Changzhou University. What is more, the Center participates in the draft and modification of Chinese industrial standard for precipitated silica products.
The Research Center of Wuxi Hengcheng Silicon Industry Co., Ltd is dedicated to offering the best tailor-made silica solutions to customers.